Feste Boyen of Giżycko was constructed in years 1943-1855. It was purposed for blocking a strait between lakes Kisajno and Niegocin. The fortress, basically artillery fort, was developed on a plan of a hexagon with four gates leading inside it. The whole structure was surrounded by a 2303 m long Carnot wall. Foundation stone was laid on 4 September 1844. Two years later, the fortress was given its name after one of the initiators of this project, a Prussian minister of defence, general Herman von Boyen. Three bastions were given names after him and further three were labelled with symbols of his crest. There were constant construction works within the area of the fortress, erecting further objects and modernizing the existing ones. Due to this fact, a garrison of fortress was constituted by approximately 3000 soldiers equipped with numerous artillery.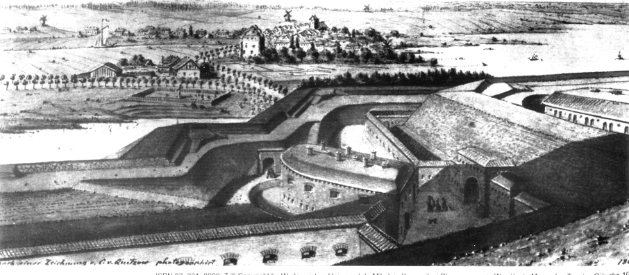 At the outbreak of the 1st World War, the fortress played a significant part by sheltering mobilization of the German army. By the end of August 1914, due to colonel Bosse, a multiple times more numerous Russian forces walking to support the army of gen. Samsonov attacking Olsztyn from the south, were stopped within the area in front of the fortress. Also in the later times, Giżycko garrison troops took part in fights within the area of East Prussia.
On the eve of the 2nd world war, Feste Boyen constituted a gathering point for German army which invaded Poland. There was a hospital within the area of the fortress. Moreover, the foster included a German intelligence centre. The Abwehr was training Russian officers who were captured by Germans and decided to fight for The Third Reich. The fortress was taken over by attacking Russian army in the end of January 1945. Polish army stationed in the fortress for twelve years. After leaving the fortress and handing it over to civil authorities, several companies related with food industry started its businesses there. After economic and political transformations, the majority of these companies were liquidated. Since that time, the Boyen Fortress is an object often visited by tourists and is the largest monument of Gizycko and surroundings.

Text: Piotr Todryk